Precept Books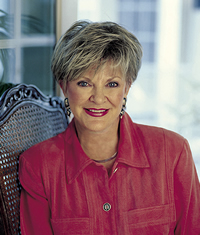 PRECEPT MINISTRIES - establishing God's people in God's Word.
Each one of us is longing for something more than second-hand experience, longing to discover truth for ourselves. That's why Precept Ministries is committed to the Inductive Bible Study method as one of the best ways to discover what God is saying to us personally through His Word.
Precept Ministries International has developed the Inductive Study aids described in this catalogue to help you dig deeper into God's Word. Whether you have 15 minutes a day or 5 hours a week, you can be sure that one of these tools is just what you need to get started.
The materials are written by a team of Bible scholars, headed up by Kay Arthur as editor-in-chief. She has touched literally thousands of lives through her writing and teaching ministry. A well-known conference speaker and author of more than 100 books and Bible studies, she has a unique ability to reach people in an exciting, effective way — challenging them to change and equipping them to be used in the furtherance of the kingdom of God.
Her authority comes from the Word of God, which she continues to study zealously; her compassion stems from a life that has been touched by deep tragedy as well as great triumph; and her practicality springs from an openness of character.
New books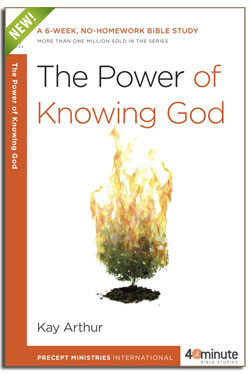 By Kay Arthur
You may know about God, but do you truly know what He says about Himself—and what He wants from you? (6 week study)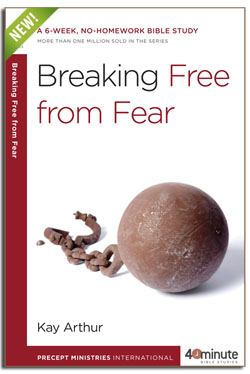 By Kay Arthur
Life is filled with all sorts of fears that can assault your mind, trouble your soul, and bring untold stress. But you don't have to remain captive to your fears. (6 week study)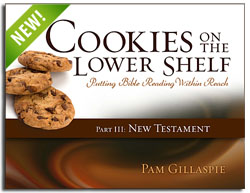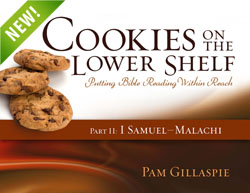 Cookies on the Lower Shelf- Part 2: 1 Samuel - Malachi
By Pam Gillaspie
The second release in the series, Cookies on the Lower Shelf™- Part 2 covers the books 1 Samuel through Malachi. This series is designed to help you see the Big Picture and give you the context needed to get the most understanding from future studies!